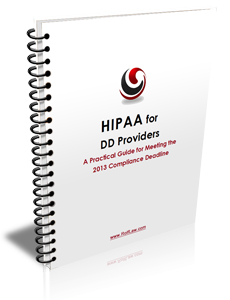 A Practical Guide for Meeting the 2013 Compliance Deadline
Price: $125.00
[purchase_link id="1695″ style="button" color="dark-gray" text="Click to Purchase"]
*For larger quantities please contact us
IMPORTANT!

New HIPAA privacy and breach notification standards published in January 2013 are in effect

NOW

.
Rolf Goffman Martin Lang LLP has developed HIPAA for DD Providers: A Practical Guide for Meeting the 2013 Compliance Deadline to assist DD providers in achieving the mandated compliance.
WHO: All DD providers that are covered entities under HIPAA.
WHAT: The Department of Health and Human Services released a Final Rule on January 25, 2013, that contains many important changes to HIPAA privacy obligations. DD providers that are covered entities need to update their current HIPAA policies and business associate agreements and implement new policies in order to satisfy the requirements.
WHEN: The new rules are in effect now. Providers have until September 23, 2013 to comply with the new requirements.
HOW: For less than the cost of participating in a webinar, our Practical Guide includes the following tools designed to assist DD providers in achieving compliance:
A "Steps to Implementation" Checklist;

"Practical Tips" on issues relevant to DD providers;

Summaries of changes related to business associate obligations, breaches and notifications, prohibited disclosures, electronic health records, marketing and fundraising communications, and enforcement and civil monetary penalties; and

Updated policies and procedures, including a revised Notice of Privacy Practices, Business Associate Agreement, Request to Restrict Uses or Disclosures of Health Information, and a Breach Notification Policy and Breach Notification Letter.
WHERE: To order, just click the purchase link above.