ROLF is pleased to introduce the newest addition to its EVOLVE suite of legal solutions – EVOLVE Admissions.
Nursing facilities need their admission material to always be up to date with federal requirements, to be adaptable, to be designed to limit risk, to be easy to understand, and, in today's world, to be optimized for electronic admissions.
EVOLVE Admissions has you covered.
Subscribe to EVOLVE Admissions for attorney-curated forms and policies for a low, one-time fee. Then, get access to any new or updated materials for a nominal annual fee, as low as about $17 per month!
EVOLVE Admissions is the simple, modern, cost-effective solution for nursing facilities.
Click HERE to learn more and subscribe.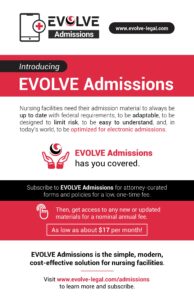 As we learned all too well from COVID-19, nursing facilities must be prepared to respond to changes in operations literally overnight. The admissions process is no exception. As nursing facilities attempt to rebuild census in the coming years, it is more important than ever that they have compliant and up-to-date admissions materials.
If you haven't updated your admissions materials since the arrival of COVID-19, now is the time. 
Subscribers to EVOLVE receive access to easily downloadable and customizable documents for a complete and compliant admission. And by subscribing to EVOLVE, you will always have updated materials.
Our documents are drafted by a team of long-term care lawyers with years of experience and who know what surveyors are looking for in your admission materials.
Avoid lengthy and burdensome admissions by focusing on those documents and signatures actually required to comply with federal Requirements of Participation.
With EVOLVE you receive integrated explanations and references that allow admissions staff to understand why documents are needed and how they comply with federal laws. Thus, your staff will know what is required by law and what can be modified – without having to call an attorney.
EVOLVE is an invaluable tool for all skilled nursing facilities.