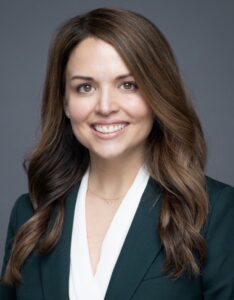 Rolf Goffman Martin Lang LLP (ROLF) is pleased to announce that Kally Goodwin-Ratzloff has joined the firm as a Partner.
Like the rest of the ROLF team, Kally has dedicated her legal practice to the representation of long-term care, senior living and post-acute providers. She blends over 9 years of legal experience with the operational perspective of someone who previously worked in long-term care. At ROLF, Kally will continue her regulatory and compliance practice – now with the support and resources of a full long-term care team.
"We are very excited to have Kally join our firm," said Aric Martin, ROLF's Managing Partner. "The addition of Kally deepens our commitment to post-acute and senior living providers and continues our mission to provide our clients unique representation dedicated to long-term care."
Kally earned her Juris Doctor, magna cum laude, from Western Michigan University Cooley Law School, and she received her undergraduate degree from WMU as well. She is licensed to practice law in Michigan, North Carolina, and the U.S. District Court of Eastern Michigan.
Kally is a member of the State Bar of Michigan, the North Carolina State Bar, the Michigan Center for Assisted Living (Regulation & Legislation Committee), Health Care Association of Michigan (HCAM) (Legal/Regulatory Committee), Michigan HomeCare & Hospice Association (Regulatory Committee), and the American Health Lawyers Association. She is an ex-officio member of the Board of Directors for the Michigan Center for Assisted Living (MCAL).
About ROLF – Law. Consulting. Technology.
ROLF is a firm dedicated to supporting long-term care, post-acute and senior living providers. With offices in Michigan and Ohio, ROLF provides legal services to providers nationally. In addition, its clinical nurse consultants (Rolf Consulting) provide assistance with preventative consulting, mock surveys, DPOCs, etc. And, ROLF's affiliated technology company, Evolve Legal Solutions, provides applications that allow SNFs to obtain the tools that they need to respond to common legal and regulatory matters.
Contact Information
Kally Goodwin-Ratzloff
Rolf Goffman Martin Lang LLP
29 Pearl St NW, Suite 421
Grand Rapids, MI 49503
517. 455-7976 (direct)
866.495.5608 (office)