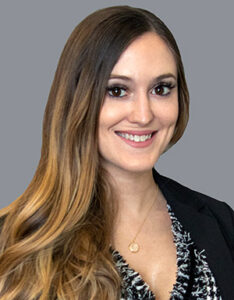 Rolf Goffman Martin Lang LLP (ROLF) is pleased to announce that Kristen Basista has joined the firm.
Prior to joining ROLF, Kristen worked with a boutique health law firm in New Jersey where she worked in the firm's corporate transactions, facility licensing, and risk management practices.
At ROLF, she will work primarily with our transactional team, and focus her practice in mergers, acquisitions, and divestitures; commercial financings, refinancings, loan modifications, and other similar HUD-insured financing matters; and licensure and Medicaid and Medicare certification.
Kristen earned her Juris Doctor from the Ohio State University Moritz College of Law, and she received a B.S. in Neuroscience from Westminster College.
About ROLF – Law. Consulting. Technology.
ROLF is a firm dedicated to supporting long-term care, post-acute and senior living providers. With offices in Michigan and Ohio, ROLF provides legal services to providers nationally. In addition, its clinical nurse consultants (Rolf Consulting) provide assistance with preventative consulting, mock surveys, DPOCs, etc. And, ROLF's affiliated technology company, Evolve Legal Solutions, provides applications that allow SNFs to obtain the tools that they need to respond to common legal and regulatory matters.
Contact Information
Kristen Basista
Rolf Goffman Martin Lang LLP
30100 Chagrin Boulevard, Suite 350
Cleveland, OH 44124-5704
Basista@RolfLaw.com
216.508-1736 (direct)
866.495.5608 (office)
www.RolfLaw.com