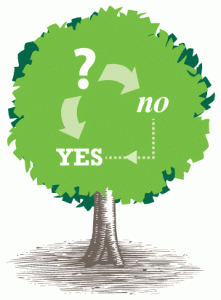 The implementation of new ROP Guidance for SNFs as it relates to the requirements for Transfer and Discharge Notices has created confusion as to when notices must be issued and who should receive a copy of the notice.
This issue is further complicated by the fact that Michigan's Public Health Code has specific requirements governing the involuntary transfer and discharge of its nursing facility residents. To ensure compliance with those requirements, the Department of Licensing and Regulatory Affairs (LARA) developed specific forms that must be utilized to ensure residents receive adequate notices of involuntary transfer or discharge, as well as their appeal rights, and has required facilities to use their forms. However, the new Federal Requirements of Participation (ROPs) and relevant Guidance related to transfers and discharges created new obligations related to transfer and discharge and include definitions that are inconsistent with the Michigan Public Health Code.
Decision Tree
To help providers navigate the new Transfer and Discharge Notice Requirements, ROLF has has developed a SNF Transfer & Discharge Decision Tree for Michigan that includes the existing LARA Involuntary Discharge requirements and the new federal requirements related to Facility-Initiated Transfer and Discharge Notices. A copy may be accessed HERE.
ROLF Transfer Notice
At this time, LARA has not indicated whether it plans to develop a Facility-Initiated Transfer Form that providers will be required to use. In the meantime, for providers who are interested, we have created a Transfer Notice form that may be used to comply with F623. LARA has reviewed the ROLF Transfer Notice form and does not object to its use.
If you are interested in purchasing the ROLF Transfer Notice, please contact Michele Conroy, Margaret Chamberlain or Vickie Burlew.
Links to LARA Forms (not updated in light of new RoPs)
Please note that this post is intended to be informational only, and is not intended to be nor should it be relied upon as legal advice.  Rolf Goffman Martin Lang LLP will not be responsible for any actions taken or arrangements structured based upon this post.  The receipt or review of this post by an organization that is not a current client of Rolf Goffman Martin Lang LLP does not create an attorney-client relationship between the recipient and the law firm.
©2018. Rolf Goffman Martin Lang LLP.  All Rights Reserved.